Male Tummy tuck in New Orleans.*
Procedure Details
Tummytucks are most commonly performed on women after they have had children. Some men also suffer from abdominal muscle weakness causing a protruberant belly. A large male belly could be caused by superficial fat which can be simply suctioned out with liposuction techniques. However, when the fat is intraabdominal and the rectus muscles have lost their tone, only an abdominoplasty will correct the abdomen. Dr. Mizgala will examine your abdomen to discuss what techniques would best rejuvenate and slim your belly.
More
Male Tummy tuck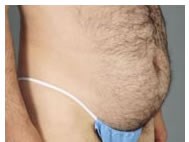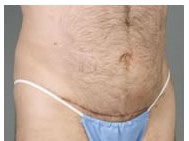 This middle aged man was bothered by his protruberant belly. The main problem was loose abdominal muscles which were repaired by a full tummytuck with rectus muscle repair. More
Male Tummy tuck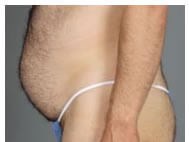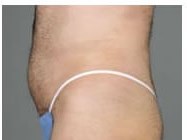 Men with intraabdominal fat and lax muscles will benefit from a full tummtytuck with diastasis muscle repair. Long acting numbing medicine and Exparel are injected in the muscle repair to ease postoperative recovery. Two weeks of recovery time are recommended and exercise is to be delayed for 6 weeks.