African American Mother thrilled with Breast Reduction/Lift in New Orleans, La.*
Procedure Details
This pretty African American mother of 3 was concerned about her larger breast size and droopiness after breastfeeding. Dr. Mizgala performed a Bilateral Breast Reduction /Lift under general anesthesia as an outpatient. She was back to work within a week and very pleased with her smaller perkier breasts. Despite a known risk for darker skin types to scar more severely, her scar quality was excellent after following Dr. Mizgala's postoperative protocol which includes silicone tape and meticulous follow up.
More
Breast Reduction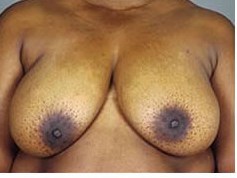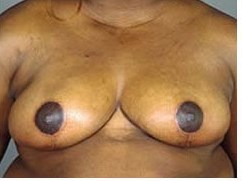 Bilateral Breast Reduction
Most mothers wait until they have completed their families before deciding to undergo a Breast Reduction/ Lift. In some cases, surprise pregnancies are exciting after this procedure and Dr. Mizgala's research has found that many women were able to breastfeed after this procedure,.