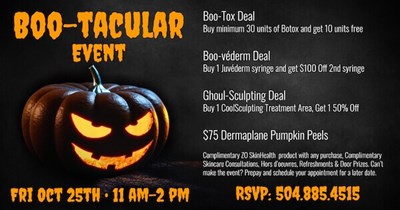 Join us for our BOO-tacular Event, Fri Oct 25th, 11 am-2 pm. RSVP: 504.885.4515. Check out the special deals below.
Boo-Tox Deal
Buy minimum 30 units of Botox and get 10 units free
Boo-véderm Deal
Buy 1 Juvéderm syringe and get $100 Off 2nd syringe
Ghoul-Sculpting Deal
Buy 1 CoolSculpting Treatment Area, Get 1 50% Off
$75 Dermaplane Pumpkin Peels
Complimentary Express Facial and ZO SkinHealth product with any purchase made on the day of event. Must be present to receive your complimentary gifts. The appointment for your facial will be scheduled at a later date.
Plus, Complimentary Skincare Consultations, Hors d'oeuvres, Refreshments & Door Prizes.
Can't make the event? Prepay and schedule your appointment for a later date.
Contact Us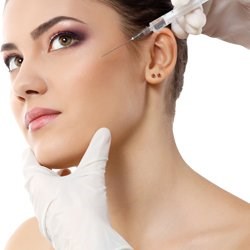 Download the Prollenium Elite App and save $50 off every syringe of Revanesse Versa purchased
Contact Us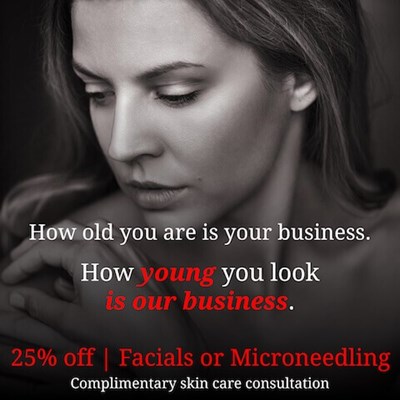 How old you are is your business. How young you look is our business.
Now thru Sept 30th, SAVE 25% on all our medical-grade facials or SkinPen Microneedling. Schedule your complimentary skincare consultation: 504.885.4515.
Learn More