Revision Facelift in Metairie, La.*
Procedure Details
This delightful Italian mom had a facelift by another surgeon years ago. She was feeling lopsided with visible scars down the front of each ear. She wanted to look great for her next Europian trip to meet up with her extended italian family. Dr. Mizgala was able to camouflage the scarring with more advanced facelift techniques and also able to restore  a younger sculpted look to her pretty face and neck line. Enjoy Italy Bella!
More
Facelift Revision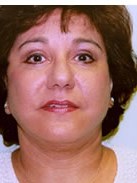 Facelift Revision surgery
Facelift surgery should be individualized to each person. Dr. Mizgala aims for a natural rejuvenated look , a major yet soft rejuvenation, without any obvious scars. She is an expert at revising a previous procedure if that procedure left obvious scars or other unnatural resulrs.